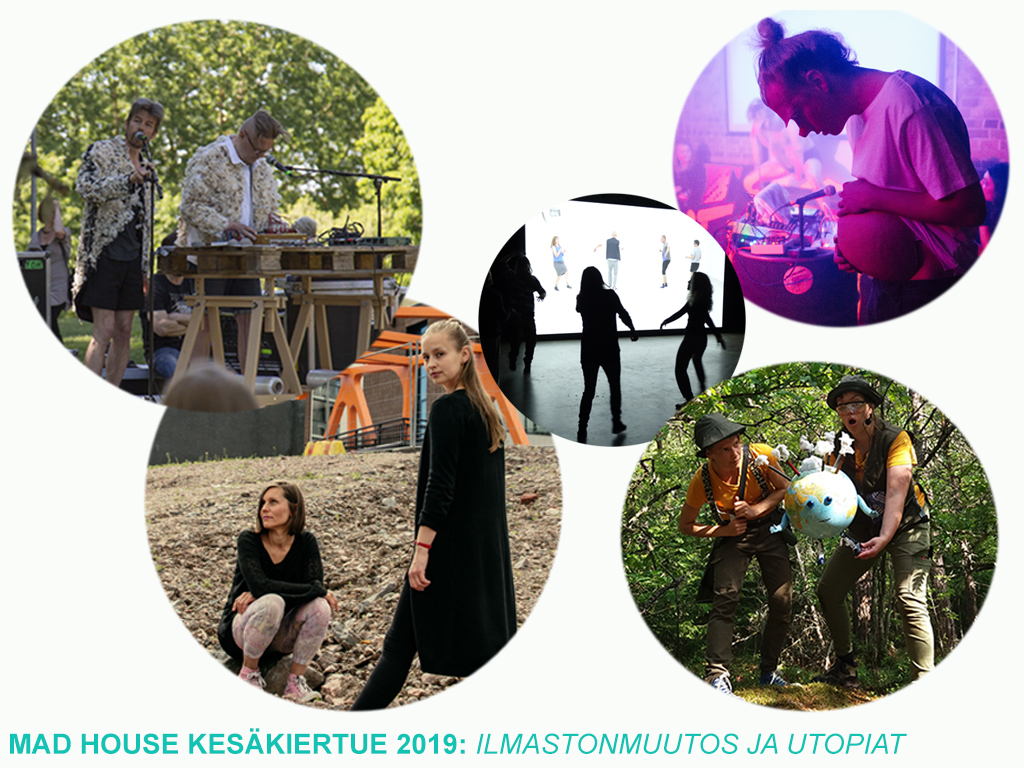 This summer there will be many possibilities to enjoy performance and live art in high quality festivals around Finland. Mad House summer tour will visit Kontula Electornic festival (17.-18.5.) and Teurastamo (13.6.) in Helsinki, Puistofilosofia in Ikaalinen (23.-27.7) and Savonlinna International Nature Film Festival (16.-18.8.).
Performances discuss about human, environmental changes and futures. Puppet theater, Kuuma ankanpoikanen, tells sullen stories about environment in their piece Hikoileva maapallo. The rhyming researchers invite families and people of all ages to wonder creatures and phenomenons which might cause some sweating in our planet. In Bird Concert sound artists Juhani Liimatainen and Juha Valkeapää create a scenery of everyday and mythological birds, dressed in feathers. Performance company Oblivia's installation The Rave asks how to make a performance and tour with it sustainably in the age of ecological crisis.
Utopiakonsultaatio and kallio manninen vision the possible and impossible futures. Utopiakonsultaatio, by Todellisuuden tutkimuskeskus, is a service which enables encounters between a customer and a consult. The interaction is affected by site specific conditions and therefore every consultation is unique. The artist duo kallio manninen is inspired by cyber theories and clubbing culture. Technology intervened with bodies creates unexpected sights of future.
The summer tour will be part of the partner festivals program in parks, yards, shopping malls, bars, clubs and Mad House space opening in Teurastamo, Helsinki. Accurate timetables and venues will be confirmed later and can be found also through festival web pages.
Images: Esa Kapila, Chritopher Hewitt, Lauri Hannus, Anna-Kaisa Kuisma, Jan Ahlstedt
Share: