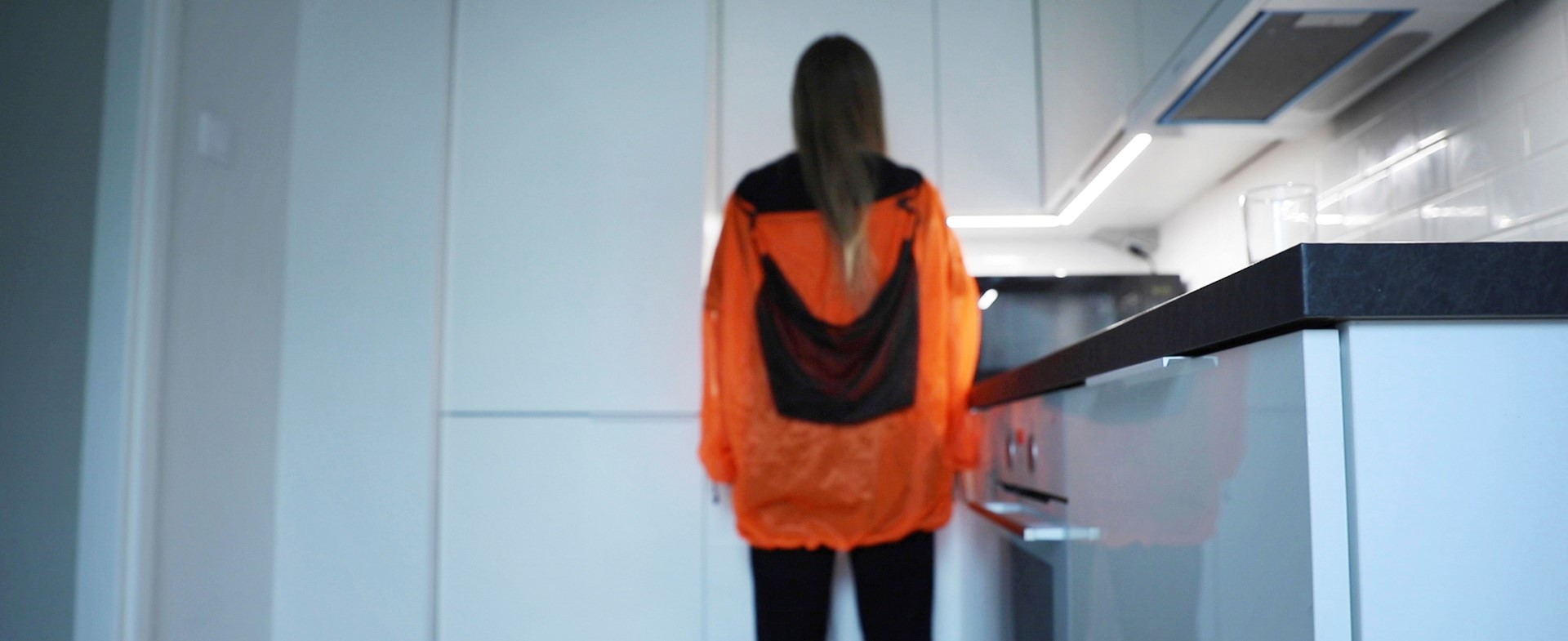 Spring 2021 at Mad House Helsinki is international and polyglot in many ways. The spring program will transport audiences from an apartment in Kalasatama to Brazil, and from a polyglot stand up event to the underworld of the deceased. Thematically the spring season program wanders, in a Madhousesque fashion, in several possible worlds, exploring for example weakness and vulnerability, childhood, genders, and language.

In addition to our regular season program, we have the pleasure to present the international BAD HOUSE festival, which has been extended to a two week event, and the internet-based Mad House Helsinki Publication. The new issue of the publication is coming out in March 2021. Pieces from autumn 2020 will be added to the spring program.

Lapsipalvelus / Child Service | PREMIERE
13.2.-21.2.2021. Language: Finnish and English

Child Service is a performance where adult and child artists together study children and childhood. The adult artists approach the child by means of mimicry and imitation, using documentary material as a basis, while the child performers take the role of experts by experience. Spectators of all ages are welcome.
Working group: Nora Rinne, Katri Soini, Joona Halonen, Ilmari Paananen, Aale Rinne, Aarni Rinne, Oliver Tervolin ja Okko Yli-Vakkuri

Vappu Jalonen: AU | PREMIERE
Week 9. Language: Finnish
Inside the apartment is a body that fits it, inside the apartment is an alternate universe. Outside the apartment, people are preparing for the rising sea levels, 200 meters from the apartment there's a well-being centre. Water's gushing from the tap, the floor is hot underneath the occupant's feet, the white noise in the apartment never falls silent. AU is a speech performance about the norms of living, weakness and fantasy.

Deep Time Transcestors -larp
Week 9. Registration ended.
Deep Time Transcestors -larp is a speculative fiction about evolution. The game opens up a multidimensional time-space continuum, in which players can explore how it feels to embody their trans ancestors' bodies in this time. The players travel through the queer prehistory through somatic and fictive exercises. The aim for the players is to embody the fundamental queerness of evolution, and display the source of life as trans and non-binary.
Working group: Teo Ala-Ruona, Even Minn, Pihla Lehtinen, Satu Kankkonen, Alvi Haapamäki, Camille Auer, Eeti Piiroinen, Emil Santtu Uuttu ja Riikka Thitz

Transquips
Week 10. Language: Multilingual-English
Can humor establish a dialogue between different cultures and languages? Is it actually possible to translate comedy? To find out, we have Transquips, a multicultural and multilingual comedy show! Using humor as an unbiased and inclusive platform, Transquips invites people to deliver a comedic performance in different languages, with a real-time translation. Transquips has featured performances in Russian, Macedonian, Japanese, Finnish, Taiwanese Mandarin, Telugu, and French, translated live into English. And it keeps expanding!
Concept and production: Humberto Duque

To organise our disappointments
Week 11. Language: English
To organise our disappointments is a joyride into failing. In this participatory performance, artists Olga Spyropoulou and Katriina Kettunen explore how disappointments occur and how they persist, stored in little pockets of memory called "things" and then put away yet in close proximity. The performance is an intimate encounter between two performers, a box of troublesome objects, and a small audience.

Ruff Lekking & Extinct | PREMIERE
Weeks 12 ja 13. Language: English
Ruff Lekking & Extinct is a night of two separate solo performances rewriting the narratives of naming something as natural. The night takes you on a journey through wetlands of queer birds and the underworlds of the living dead. Camille Auer and Teo Ala-Ruona prepare these performances in dialogue. Their collaboration is rooted in their mutual admiration for each other's work and a deep friendship.

BAD HOUSE festival
12.-25.4.2021. Festival program will be announced in February 2021
BAD HOUSE is a new living art festival, held for the first time on April 2021. BAD HOUSE takes place at Tiivistämö in Suvilahti, and at Mad House and Gallery Kohta in the Teurastamo area. The festival program consists of Finnish and international pieces. BAD HOUSE aims to present, champion and celebrate contradiction, imperfection, and emancipatory of the language of art in our zeitgeist.

Pasi Mäkelä: Walrus Vampire Show
Week 17. Language: English
On the verge of absolute extinction, the presumably agender Vampire Walrus has been forced to leave the melting icecaps of the North Pole, and now supports itself as a performance artist in Central Europe. The performance combines different genres of living art; contemporary theatre, standup comedy, Butoh dance, slapstick comedy, performance art, and storytelling create a macabre and surprising mixture.

Aura Nurmi ja Emilia Mäenmaa: Angela
Week 18. Language: Finnish
Angela is a performative spoken word piece that deals with ageing, gender and generations. It gives a fresh and honest take to loss and fear of death. Two young women live fast now, but what happens when they eventually start going grey? Is one's lovability born out of the illusion of youth? And how credible is an old woman in a position of power? This physical, musical piece explores dread in the face of the inevitable with a unique poetic language and has won acclaim for the ways it pushes the boundaries of art.

Zuz Buchowska: Jellyfish | PREMIERE
Week 19. Language: English

i think life is a bit absurd. there must have been a general meeting about how to be a real human person, but i missed it. "jellyfish" is a stand-up comedy turned lie-down dramedy (because idk about you but i'm a bit tired these days) that talks about how weird it is to be human sometimes, but at least we're in it together.

Jamie MacDonald: Cuck | PREMIERE
Week 19. Language: English

Most jokes are like sausage; if you have to explain how it's made, everyone loses enjoyment and leaves the room, but I like to take apart the processes behind laughter and lay them bare. Cuck is a new stand-up work exploring mockery and liberation, cucks and kings, the woke and the broke, and why we continue to torture ourselves with social media. While invisible actors profit, we provide our anxieties, humiliation, and pain to them for free, and compete for fifteen milliseconds of fame in the hottest take.

Anne Naukkarinen & Maarit Mustonen: On keeping a notebook
Week 21. No entrance fee – registration needed.
On keeping a notebook is a workshop offering us a chance to delve into the practice of keeping notes, using different tools such as text, bodily movement, sound or image. What's the significance of notes in your own life and work? How do private, subjective notes relate to public and shared space? What kind of worlds, associations and information can different people's notes create together? The workshop is aimed at people working within the arts as well as at anyone for whom notes are of importance.
Photo: Elis Hannikainen (AU / Vappu Jalonen)
Share: